If you're looking for Projectors, there are three to choose from over at Broken River Books. You can get hardcover, paperback or electronic (and here's the Goodreads link, if you feel like throwing down a review). Each version of the book has a different cover. Since the hardcover was designed to look like a big ol' VHS tape, the paperback is like… its soundtrack. Check it out. Design by Dyer Wilk. Art by Joel Vollmer:
For the electronic version, we tried something a little different, then finally coming up with an exclusive animated cover, which we wasted on this guy. Here's a sneak peek. It was essentially a blatant attempt to hypnotize you: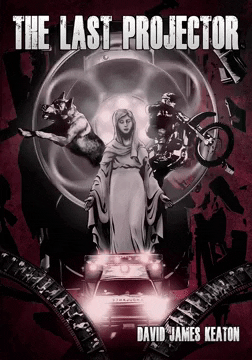 Other bad ideas included hijacking someone else's movie trailer and pretending it was for this book instead. We finally enlisted the help of Nathan Lamoreau to create a book trailer of our own. But the most scandalous promotion was probably the The New York Times review from the '80s that was found via time machine:
Pretty prestigious publication, sure, but messing with time and space? At what cost, right?
Here's a greatest hits of Last Projector-related shenanigans I was up to in lieu of a legitimate book tour:
Okay, let's see, among the internet fun, there was a favorite author of mine over at This Is Horror telling people to be on the lookout for my novel (also, one of the two books mentioned by Stephen Graham Jones here got a shout-out by Stephen King himself, a hint, it wasn't mine). I also did an 8,000 word interview with Simon Jacobs at Angry/Safe, probably my favorite movie talk ever, where I think we got to the bottom of everything regarding violence and film and everything that was on our minds that year. What else? We had a contest where people had to zoom in and decipher what movie was depicted in the film cells on the hardcover artwork (another hint: it's not the one you think it is, it's the remake, which rhymes with "mistake"), and soon after we went up to AWP in Minnesota with a stack of Projectors and sold-out at their book fair. I also did a reading at Boneshaker books with the rest of the Broken River Crew, including Anthony Neil Smith, who was recently unmasked as the author of XXX Shamus, a book I'd lied about being the author of just weeks earlier.  Gabino Iglesias (author of Zero Saints) told people over at Revolution John that my book might "ruin your goals of ever reading other books." I did some podcast interviews and a St. Louis reading for the now-defunct Books and Booze, did some more Noir at the Bars, including one I hosted in Louisville before we left town, on February 14th, calling it The Valentine's Day Vernacular Massacre. Jed Ayres tried to find some rhyme or reason to the glut of dogs in novels lately, or dogglegängers, to be precise, then he had an out-of-body experience with my book. Punchnel's in Indianapolis was kind enough to invite me up for a Second Story Writer Night, and to return the favor, I judged a fiction contest for them, selecting the best "hybrid" stories from a very eclectic, fascinating stack of submissions. I later read a Last Projector excerpt with the winners. Elizabeth A. White let me stop by her turf to talk about the inspiration behind the novel (mostly the cover), and the movie posters that inspired both. Then I led the Indy Word Lab sponsored by Metonmy Media, where we all did a writing exercise at Indy Reads Books, where I wrote on their pillar of fame with a marker that ran out of ink (symbolic 'n' shit!). The year wrapped up for me with a trip to NoirCon in Philadelphia, where I participated in something called Three Minutes of Terror. At this event, if you didn't finish your story under three minutes, the MC revved a toy chainsaw in your face. If you listen close to the recording, you can hear this happen at least once. It wasn't me, but it might not be a surprise who got chainsawed. But that was a much shorter version of my reading at Noir at the Bar in Chicago, so if you want the director's cut of that x-rated scene (back when The Last Projector was just a novella called "Tap, Tap, Tap"), stop by Crimewav instead.
On social media, Broken River Books, Dyer Wilk and I went a little promo-crazy, which is way healthier than porno-crazy. "The Ultimate in Italics" tagline was my favorite because, yeah, it's gotta lotta italics:
And here's a hyperlink party for the rest of the reviews, raves, or head-scratching around my first novel:
Kirkus Reviews called it a "world of wild fiction… rapidly paced and loaded with humor" and "a loopy, appealing mix of popular culture and thoroughly crazy people.
Albedo One Magazine declared it "a brutal headcase of a novel, dealing with the muck collecting under rolls of celluloid and DVD trays, the symbiotic relationship of on-screen smut and technological progress and life struggling to keep up with art, even as art grows bloated, uncontrollable and finally collapses in itself in an orgy of self-destruction.
Full Stop said, "perhaps the most impressive thing about this novel is that it's Keaton's debut. He has published short stories in many venues and his short story collection, Fish Bites Cop!, received many accolades. However, a novel is a very different thing, and he pulled off delivering a powerful and strange narrative that demands attention."
At The Millions, for their Year in Reading feature, Carolyn Kellogg of the LA Times stopped by to say, "Dave's smart and funny and he knows what he's doing, and there are nudges in the text to let you know he's having fun all along. He really is."
Dig Boston's resident madman Tony McMillen came up with a new word for his review, "choogling," and also remarked, "Underneath all this ornate dressing and psychedelic framing is a story about identity, regret and the peril and untrustworthiness of memory. How nothing is the way you remember it and if all we really are is merely a summation of that unreliable memory how can we really be sure who we are in the first place? All this existential digging and the book's other ruminations on gritty and brutal topics like rape, murder and insanity might be excessive and depressing if not for Keaton's knack for Altmanesque dialogue and angular, swift prose."
LitReactor's Bookshots pondered, "What if you discovered a post-modernist novel with all the genius level word play, absurdist comedy, and page-upon-page of character and philosophical exposition, but with a beat you can dance to? Yeah, a well-defined plot that doesn't get lost and tangled in all that witty exposition. How would you define that kind of novel? I think you would define it as commercial post-modernism. I think you would define it as The Last Projector.
Dead End Follies decided it was "a psychedelic mystery" and "a novel with it's own, schizoid logic and clues and hints are hidden within the fabric of reality itself. What's playing on television, what the dog is doing, actions that seem trivial, they all matter. It's refreshing and playful and yet thoroughly exhausting."
When Hellnotes lost Tim Potter, we all lost a great reader slash reviewer. Tim said my novel was "a hysterical and hypnotic slipstream of anachronism and anarchy" and "the characters are wild and the plot is fascinating, if at points it becomes nearly indecipherable, and the prose is razor sharp and laugh-out-loud funny."
The Big Click said, "The Last Projector is a ridiculously elaborate bizarro/crime novel riddled with pop culture references that ignores reality and chronology and yet somehow rises above it's own twisted, outré nature to become not only very readable but also continuously entertaining. This is fiction that doesn't obey any rules, and the result is a playful narrative about movies, music, dogs, ambulances, and identity that deserves to be read. Sure, you will get lost in it, but the trip is worth it.
My Bookish Ways had a lot of questions. Like, "how do all these characters' paths intertwine? What is real? Is the pitch black just under the Technicolor explosion real or just another illusion? The road to the answer just happens to be clogged up with the cult detritus of the 70's, 80's, and 90's. As I read through, the keys would pop in and out of view. The more I think about it, and I may be entirely wrong, but Keaton may have written the first ever written representation of one of those 3D pictures from the 90's. Thankfully, I didn't have to cross my eyes and slap my face into the spine of the novel to read it (an idea for next time?)"
The Austin Monitor's David Bowles is a champion of unusual literature, and in his column Top Shelf, he accused me of "resisting any traditional relationship between author and reader, deliberately unmooring the text from the hoary tools we use to extract meaning from a text. The result is akin to Samuel Beckett on meth: a nervous, chatty absurd that forces us to confront a novel whose author is as unreliable or absent as God in an agnostic or atheistic universe.
Crime Fiction Lover was unable to classify it and said, "a novel this strange is almost critic-proof and I couldn't say which genre it belongs in (perhaps its own), but if it sounds like it's for you, then I urge you to give it a try."
Booked. Podcast gave it ten stars total (which wouldn't be that impressive if there were nine people involved, but, yeah, five stars each from both those guys), so I guess the payola paid off. They called it "the most anticipated book of 2014. Hell, it's the most anticipated book since this podcast has existed."
The Pulp Chronicler said I was "a mad genius" and that the book was "less a novel than an experience. It's David Foster Wallace and and David Lynch co-directing a video game adaptation of a musical adaptation of a sci-fi horror fantasy porno. Its getting over a heartbreak by going to the cinema all alone and taking communion with the silver screen while enveloped by the darkness."
Shock Totem's review made me hungry, saying, "David James Keaton has delivered a literal smorgasbord of a novel here, loaded with grease and fat and enough madness to choke a goat."
The Literary Hater's Ball took my novel to the woodshed, as only Hatebino Hateglesias can. "An assassination of a plethora of genres that no sane author would ever attempt. You should only purchase this unnecessarily convoluted jumble of words if you live in an area where bricks aren't readily available and you want to crush someone's skull with a heavy rectangular object.
Do Some Damage had a list of Best (Mostly) Crime Fiction of 2014, and The Last Projector was on it, noting "Keaton delivered a unique, weird, brave narrative about a hell of a lot of things, and he did so with a commanding voice that seems to come from a man who's been publishing this kind of literature for three decades. Do Some Damage was also all about the cover, listing it as a favorite of the year. And speaking of…
That Lit Site said it was "a book as good as its cover," which is high praise considering Joel Vollmer's cover won two awards, Best Book Cover of the Year over at This Is Horror, and the Golden Goodis Award for Best Cover Art/Book Design over at Dark Corners, sharing the award with the amazing Matthew Revert (The Last Projector won best debut novel at Dark Corners, as well). Dyer Wilk talked about his eye-catching design for the paperback version over at LitReactor, too. Oh, yeah, Joel Vollmer got such an excellent response to his cover art that he started selling merchandise on RedBubble. So if you want the Virgin Mary staring at you every time you crash through your door on a dirt bike, he's got you covered.
I was excited to discover that LitReactor made it their November Book Club Selection, where, during the discussion, a reader put a bullet through my book for "reasons." He seemed to like it though, finally calling it "Pynchon on a meth binge."
And finally, over at The Next Best Book Blog, I took their "69 Test," getting over-ambitious and instead going this with page 69 of the hardcover, paperback, and Kindle editions because I wanted to be different (annoying), aaaaaaaaaand…
I was (not) surprised to discover they call had sex scenes. Gross.
Miranda at her BookLikes blog gave a hilarious animated play-by-play as she read it, posting some of the juicier quotes. Her final review was one of my favorites, where she said, "I´m reasonably sure The Last Projector broke something in my brain… I simply love this freaking book. It´s just perfect and genius in all those imperfect, flawed ways where time and place, memories and identities, cause and effect, of what is happening and why are impossible to tell apart… The Last Projector is infinite fun, but a jest it ain't." Ever since the book's release, I've been hoping someone would give me a blurb that called it "Infinite Jerks!" so her quote was pretty damn close. I'll take it.
Crime Factory, the best crime magazine in Australia, recently dropped Issue 18, and inside it they said, "While there are numerous novels about less-than savory people going ape (Fight Club anyone?), few can touch The 

Last Projector

… ultimately a successful Frankenstein with Keaton firmly behind the scalpel as a crazed creator of nightmarish imagery. If only real films could be so sickening." I'm all about this review because growing up we might not have had a Fight Club, but we did have a Roughhouse Club, and a Hug Club to balance things out. The first rule of Hug Club was "awwwwww."
If you want to read about my publisher, Broken River Books, struggling with exactly the same problem I have lately, which is trying to explain what the hell this novel is about and why anyone would want to read it (something I've never really been able to do effectively), check out J. David Osborne's blog at Super Serious Writer. He asks, "How do I explain that The Last Projector makes connections between disparate elements of pop ephemera with such a deft, easy skill that you don't even realize you're watching a magic trick? How do I explain that by the time the "parallel" story overtakes the "main" story, you're filled with mountains of awesome dread? How do I explain how it builds to the best climax I may have ever read? It's tough!" I'm convinced. "Selling brains" ain't easy. It's probably harder than selling actual brains on the street. They're 15 bucks each, by the way.